Last week, Disney XD released the long-awaited, three-episode Season Three opener of "Star vs. The Forces of Evil," titled "The Battle for Mewni."
For those of you unfamiliar with this show, it essentially follows magical girl/rebel princess Star Butterfly of the Mewni dimension after she is sent to Earth to learn how to employ her magical princess powers. She befriends human boy/karate kid Marco Diaz, and together they hop through dimensions and battle the monsters (literally) who would strip Star of her magical wand.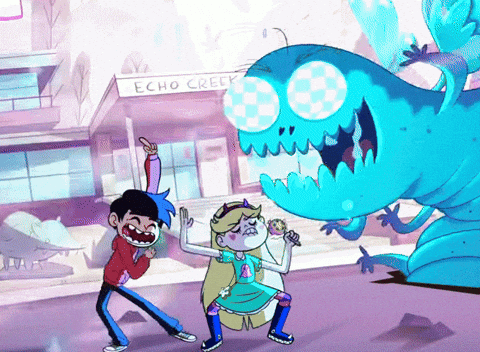 From the get-go, there are two main villains in this story. The first is Ludo, a tiny owl-like creature who is intent on getting Star's wand and has somehow corralled a group of hapless but far more intimidating monsters to do his bidding. The second is Toffee. We'll get to him in a minute.
Ludo is what I like to call the "Emperor Pilaf" of SVTFOE: determinedly evil but hopelessly (and hilariously) inept. He has moments where he poses a true threat to the life and safety of our heroes, but mostly he's just there to kickstart the series with some kind of conflict. Like Emperor Pilaf in "Dragon Ball" (and if you have not watched "Dragon Ball," drop whatever you're doing and go watch ALL 200 episodes IMMEDIATELY. I'll wait.), Ludo is there to provide structure and purpose to a set of episodes as a season, as opposed to it simply being our two protagonists (Star/Marco; Goku/Bulma) overcoming a series of minor hurdles.
Ludo in particular provides some much-needed worldbuilding to the SVTFOE universe: he gives us a sense of what monsters' lives are like and why they would want control over the wand so badly. His misadventures humanizes monsters, which gains increasing importance as the series goes on. More importantly, he is there as a contrast to what true evil really looks like.
And now let's talk about Toffee.
Toffee starts out as Ludo's right hand man (*ahem*). He's clearly the brains of the operation, inasmuch as there is one, and he eventually leads an ouster of Ludo after several episodes of hilarious incompetence.
Unfortunately, the ouster of Ludo is not hilarious, because Toffee is not here to screw around. No, Toffee knows exactly what he's doing, and he has a plan, a long-term, insidious plan. And thus you have the Big Bad facing off with the Small Fry.
Without giving too much away, Toffee possesses Ludo and uses him as a hapless, harmless-looking vessel from which to achieve his goals. Once he's done with him, he spits him out – literally.
"The Battle for Mewni" is the climax of the Toffee/Ludo storyline, in the sense that you see the true extent of Toffee's powers and his abuse of Ludo. The interaction between Toffee and Ludo in this finale is what really captured my attention.
From the start, it was obvious that Toffee was using Ludo for his own goals. In many ways, Ludo was the perfect tool, since he'd been trying to capture Star's wand for ages without even the hope of success. Star had no reason, at that point, to see him as a legitimate threat – the most he was was an inconvenience. Who better to hide behind than the one nobody takes seriously?
But here's the thing: once Ludo outlives his usefulness, he's tossed out as the viewing audience would expect. But Ludo comes back with renewed vigor and this time, he's actually successful even without the help of his monster crew. BUT – and I know this is a lot of buts – he's always clearly inferior to Toffee. At no point does he pose a serious threat to Toffee's goals.
So why does Toffee use him again?
Why Ludo?
Villain vs. Villain is a lot more interesting than Villain vs. Hero
From where I'm sitting, there doesn't seem to be anything that Toffee can do via Ludo that he couldn't do without him. Ludo's ineptitude makes him a comical figure as the usurping kind of Mewni, but what purpose does that serve? Ludo effectively forces the Mewmans into servitude, but surely Toffee would have been even better at that. And in the end, it doesn't even seem that Toffee is particularly interested in ruling Mewni – having (supposedly) defeated Star and her allies, he simply turns to leave, walking away from the ruins of Mewni.
Let's compare this to Dragon Ball one more time. In the second to last arc of the series, Emperor Pilaf and his gang revive the Demon King Piccolo after numerous failed attempts to capture the dragon balls for themselves. Their plan is to use his superior powers to gather the dragon balls and then steal them for themselves.
This, obviously, is not going to work.
Once again, there is no doubt at any point that the Pilafites are in over their heads. They can never be a threat to King Piccolo because he is simply operating at a level beyond their capacity – they cannot even begin to contemplate the evil that he has planned. And, much as you would expect, he only keeps them around while they are useful to him. Once they've outlived that usefulness, he dumps them.
So why does Toffee go back to Ludo when he no longer needs him?
In her blog post, writer Katie Cooney identifies nine elements that make for exciting, threatening villains, and a few of these points are very relevant to a discussion of Toffee. The first is his surface motivation. When we first meet Toffee, it seems pretty obvious that what he wants is power. He pretends to believe in Ludo as a leader, but really he wants to wear that hat himself. He pretends to want the monsters as a group to be successful, and that serves as excellent cover for his ouster of Ludo. And truly, power suits him. (See image above. Not the throwing up one, before that).
But what power really is, is control. Toffee wants control – over the monsters, over the Butterflies, over Mewni. When we see him in flashback, we see that had once had control, over a literal army of monsters who believed in him, and who would have followed him into the depths of Hell (or Heaven, depending on your perspective) because of his ability to project dominance.
And then teeny-bopper Queen Moon cuts of his finger.
This flashback scene, I think, is crucial, because it encapsulates the moment when Toffee's end goal changed. Now he wants that finger, not in his hand but on it, because it represents everything that he lost in that moment – not just control, but the prestige, the respect, the dominance that gave him that control in the first place.
Without the finger, Toffee is emasculated (and yes, I mean that with all the connotations it implies). As long as he doesn't have the finger, his need for control is overwhelming. He takes a perverse pleasure in forcing Star to be the architect of her wand's destruction. And he keeps going back to Ludo.
Ludo is easy to control. He's small and pathetic and in over his head. Even at the height of his power, he is easy prey. Toffee has influence over the other monsters, but without his finger, he needs something more. He needs that tangible control over Ludo's mind and body to exert dominance. The stronger his hold over Ludo becomes, the more forward he is about decimating Mewni's magical population. A fingerless Toffee would never have attacked the magical high commission, but in the body of Ludo, he takes them on with a smile on his face.
Once he has the finger, he can walk away. His prestige has been returned to him. He's proven that can still exert dominance, can still run the show, without it. With it, he is invincible.
Well, not really, because Star kills him. But you get the idea.
I don't think I've ever seen this kind of Big Bad-Small Fry interaction before, and I thought it was fascinating – you can tell because I'm still thinking about it a week later. Now, with Toffee seemingly vanquished and Ludo safely on his way to a redemption arc, I'm excited to see what the show does with new villains. Toffee's demise left a lot of questions unanswered, and I don't know how they're going to top his 'rise to power' arc.
Season three of "Star vs. the Forces of Evil" resumes in November on Disney XD.
What do you think? Is Toffee coming back in season three? And will any villain ever be able to make us feel the way he did? Let me know!