I am not by any means a movie theater buff – more often than not, I'm perfectly happy for a movie to appear on television. But "Rogue One: A Star Wars Story" was one that I had marked down to actually go see in a desperate attempt to avoid being spoiled to death. And I gotta say, I'm so happy I got to see it.
Spoilers III: The Force gives it away
"Rogue One" takes place immediately prior to the events of "A New Hope" and tells the story of how the Rebel Alliance was able to get its hands on the Death Star plans in the first place. The movie stars Felicity Jones as Jyn Erso, the daughter of a rebellious Imperial scientist who also happens to be the brains behind the Death Star, Diego Luna as Rebel Alliance captian Cassian Andor, and Riz Ahmed as an Imperial pilot who is entrusted by the scientist (Galyn Erso, played by Mads Mikkelsen) to get the Death Star plans to the Alliance.
The movie plops us into the midst of the brutal war between the Empire and the Alliance. On Jedha, a planet that has a quasi-religious significance to believers of the Force, the Empire, the Alliance, and the militia forces of Saw Guerara (Forest Whitaker in a criminally small role) are in a stalled but bloody battle for control. The scenery, not surprisingly, is reminiscent of war-torn Iraq, complete with domed buildings and a Middle Eastern-style bazaar. Even the name "Jedha," presumably a play on Jedi, sounds and looks a lot like the Saudi Arabian city of Jeddah which, incidentally, is very close to the Islamic Holy City of Makkah. Saw Guerara himself reads clearly as a vicious warlord.
(Did you know that Tataouine, Luke Skywalker's home planet, is the name of a real city in Tunisia? Lots of Middle Eastern inspiration in Star Wars. Not that we get any credit.)
But I digress. The plot, essentially, is this: Cassian's mission is to use Jyn and Bodhi to find her father and kill him in the hopes that his death will put an end to the Death Star. Bodhi, meanwhile, partners up with Galyn to give the Alliance a desperately needed weapon against the Death Star: a small but deadly flaw that Galyn has purposefully built into the machine. (He is not rewarded for his efforts, just FYI.)
And Jyn? Well, I found Jyn to be less than impressive. She is essentially a hostage, first of the Empire and then of the Alliance, and spends the first part of the movie making half-hearted attempts at escape before miraculously transforming into an inspiring leader who brings the rebels into the heart of the Empire's infrastructure.
That brings us to the important part: once the Rebel Alliance gets news of the Death Star, they just…fall apart. They bicker about whether this is a real thing, if they can trust Jyn and her father, and what they should do about it if it is. They spend a solid 10 minutes bickering over whether they should fight back or surrender and, of course, fail to reach a consensus, proving that democracy is terrible and people are the worst.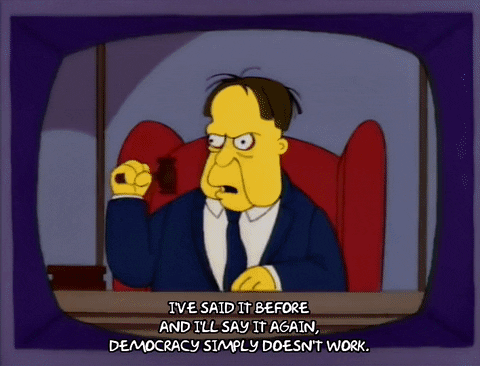 Fortunately, Cassian rallies a few of his friends who agree to join Jyn, Bodhi, K-2SO (think Marvin the Paranoid Android but less depressed), and Chirut and Baze (Donnie Yen and Wen Jiang, respectively), two monks they rescued from Jedha. Together, they breach the Imperial stronghold that is the planet Scarif so they can steal the plans to the Death Star and find the flaw.
A bloody battle ensues as the Rebel fighters try to distract Stormtroopers from Jyn, Cassian, and K2SO, who are busy looking for the Death Star plans in the ridiculously manual and yet believably futuristic Imperial Archives. Here, the scenery evokes more of a Vietnam War feel, with rebels running through all manner of tropical shrubbery.
When the Alliance finds out that Cassian and others have gone to Scarif, they're finally moved to mobilize to support their people. By the time they arrive, however, it's too late: the Rebels have done some damage, but they are outgunned and outnumbered. Alliance jet fighters are only able to delay the inevitable, but that gives enough time for Jyn and Cassian to steal the plans and make a run for the nearest satellite communications tower. Meanwhile, Bodhi has managed to establish a signal with a Rebel commander to send the plans, giving him a brief moment of triumph before he's blown up. Frustrated, the Empire turns its new death machine on itself, blowing up Scarif in an attempt to block the breach.
To fix a plot hole
So yeah, everyone dies. Most of our main characters die in some kind of fight, while Jyn and Cassian die in what is supposed to be a moving embrace as they watch the explosion that will kill them. When, why, and how they fell in love are questions "Rogue One" does not bother to answer. After all, where would the movie industry be without forced romances?
The standouts for me were Cassian and Bodhi. I personally think that either one of their backstories would be infinitely more interesting than Jyn's, whose main thing is that she was left by her parents on a remote planet. (This appears to be the mandatory backstory for all Star Wars' main characters). How did Bodhi, a cargo pilot, meet a top scientist? What was the nature of their relationship, and why did Galyn trust him to take his message to the Rebellion? Why would Bodhi leave what I imagine is a fairly low-key job with minimal murder and risk his life for this cause?
Or Cassian. What's his deal? "Rogue One" gives us a glimpse into the brutality of his life as a rebel fighter in a confrontation with Jyn, and then again later when he rallies the troops. They have given too much of not just their blood and tears, but of their morality to the Alliance to give up now. What he did and why – what makes him so loyal to the Rebellion – are things I would love to learn more about.
"Rogue One" also did a great job with the tech. The original "Star Wars" movies are a product of their era and it shows in the technology, as futuristic as it's supposed to be. "Rogue One" does a great job of matching up with the style of tech in the original trilogy: in one scene, Bodhi is running across the battlefield trying to connect a hose-like wire from the communications tower to his ship so that he can contact the Rebel fleet. In an experience that is quintessentially '70s, the hose gets stuck on some equipment and stops just a few short feet away, much to Bodhi's frustration.
Overall, "Rogue One" is a great movie both within the Star Wars universe and as a standalone production. It starts off a little bumpy, with scenes jumping from planet to planet seemingly at random, but overall the plot is solid. We also get a glimpse of C-3PO and R2D2, which let's face it, is what we're really here for, and even Princess Leia makes an appearance via the miracle of modern technology. Diego Luna and Donnie Yen are especially awesome, as are Riz Ahmed and Wen Jiang (Forest Whitaker is, as I said, unforgivably underused, and Felicity Jones is honestly a little wooden in places.). 10/10, would see again.