Hello quibblers! In celebration of this year's National Novel Writing Month, I'll be shelving the book reviews and media commentary to focus on the craft of writing. Hopefully, aspiring NaNoWriMo-ers will find this information helpful as they write and, ultimately, rewrite their stories.
In this installment, we'll be discussing an oft-asked question by writers old and new: what are the flaws that I should avoid when writing?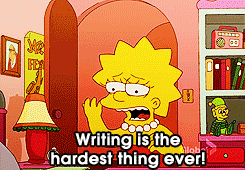 I did some research, and there are the five flaws in fiction writing that I think writers should be most aware of:
Telling instead of showing
This is a crucial part of all kinds of writing, but especially in fiction. You are the reader's lone guide through the story you've made, and as vivid as it may seem in your own head, that won't translate to your reader if you continously tell your reader about the story instead of show them what is happening. Let's say, for example, that you're writing "Maria had always had a wonderful relationship with her mother, but lately she'd been cold and distant." Instead, describe a moment where Maria goes to her mother about something and the mom is unenthusiastic and unengaged. Show Maria being heartbroken, feeling that her mother is ignoring her, uninterested in her. That will translate to your readers so much better.
Troping your story to death
Look, there's a reason why tropes exist, and it's because they're familiar. They make sense to us. And it's fine to use tropes within your story if you feel that it's what the story needs. What's not fine is for every character in your story to fit in some kind of trope, and for every storyline to follow the well-worn paths of those before it. If you're motivated to write a novel (in one month!) then it's probably because you have a unique story in you that you want to get out. And yeah, maybe it follows the traditions of its genre, but it shouldn't be an amalgam of everything that tradition has to offer. Think outside the box a little. Throw a wrench in there that's atypical to the style of stories in that genre. Flip a trope on its head and see what happens. Sometimes, little things like that executed well can make a story stand out from others in the genre.
But! Be extra careful with tropes that are clearly racial or sexist in nature: the Ice Princess, the wise old tribal leader who speaks in cryptic imagery, the nagging housewife, etc.
Pacing
This is one that I wouldn't have considered if I was just writing this post off the top of my head, but pacing is actually crucial to a story. In many ways, pacing is your way of manipulating time within your story. In "Writer's Store," Gerry Visco advises writers to look at their story scene by scene (so basically, storyboard it) and see how the scenes fit together. Are some scenes to fast, to slow? Does the sequencing need to be changed to make more sense? Is the climax followed by an immediate drop in the action, or is there a more nuanced slow-down in the pace? These are all things you can see better when you take the story apart scene-by-scene.
Remember, too, that a story doesn't have to move at a break-neck speed to be good. A lot of the advice online about pacing your story discusses speed, but it's important to give your characters (and your readers!) moments to breath, collect themselves, and get ready for the next adventure.
Inconsistency
There are lots of types of inconsistency in writing, but the ones you really want to watch out for are the kinds that directly impact your characters or your plot. Things like inconsistent characterization (is he a level-headed thinker or an impulsive fire-cracker? Because he can't be both.) and warped timelines can really throw a wrench in your reader's concentration. In fact, many authors start their writing with a timeline of events and a character description for each person in their story so that they can stay on track.
One-dimensional characters
This one almost goes without saying, but it's still worth saying because it happens all the time. Especially with secondary characters, it's easy to for you to forget about them as your hero trudges on through your story. But every character in your story should serve some purpose, and that purpose will not be truly fulfilled if we only ever see one aspect of them.
This happens a lot with villains, too, where their only goal is chaos for the sake of chaos, evil for the sake of evil. The villain in your story should have a purpose, something that drives them to do what they're doing, and that purpose can't just be "I want everything to go to hell!" Make us understand where they're coming from, why they've chosen this path. The X-Men in particular does a good job with this, where although Magneto's goals (and his methods for achieving them) are obviously horrific, we can see why he is the way he is. Although the trauma he's experienced doesn't justify his actions, it does shed light on his motivations, and gives a logic to his refusal to join the X-Men.
That's my take on some of the major flaws in fiction writing. What do you guys think of these flaws, and what are some you think writers should avoid? Share in the comments below!