In case it isn't already incredibly obvious, I watch a lot of television. What can I say? We get some pretty good channels at our place.
One of the channels we get (which will remain unnamed, lest I anger the Producers That Be) is dedicated to real estate and home renovations. If I had to guess, I'd say that this channel runs around eight different shows at a time. "Different," however, is a strong word. These shows all run on one of two premises:
A couple are moving to a new city and looking for a home in which to live. Both have very specific requirements for this home which are, more often than not, irreconcilable. A harried real estate agent accomplishes the impossible – finding them a home they both like – by showing them exactly three houses.
An old house, rundown by time and probably weather, having suffered the neglect of man and woman and finally abandoned by the populace, is rescued from obscurity by a kindly, creative couple/siblings/single person determined to give it a new lease on life and on ownership, so that it may once again fulfill its housely destiny as a home for a family of three/five/seven/eleven/etc.
So, eight programs, all based on premise or the other. It is amazing to me that this kind of situation can occur and apparently be very profitable for said channel, although given the fact that there are approximately three separate "Keeping Up with the Kardashians" shows on at any given time, perhaps I shouldn't be too surprised.
And let's face it, that's basically what we're watching, isn't it? Yes, it's interesting to see what you can get for your money in Chicago or wherever, or what kind of furniture goes with blue wallpaper, but that's just a sideshow next to the real entertainment.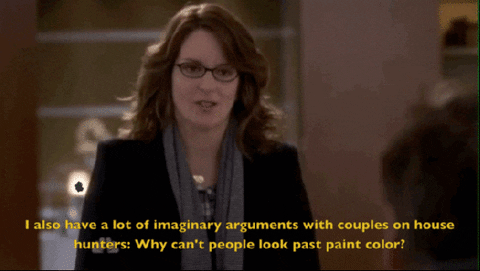 What's truly entertaining is watching couples bicker about budgets and yard size and "curb appeal," a term I learned recently. It's a short window into the relationships, but through it you can glimpse (and snigger) at the power dynamics. You'd think there's enough conflict on television, but apparently not.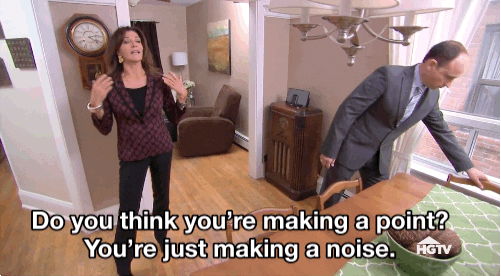 Regardless of the whys and hows, it's obviously a winning formula, because it seems that every time I turn on the television I see an ad for a new show based on the exact same premise. Clearly, this unnamed channel and its army of real estate agents and contractors are raking it in.
It makes you want to get into the real estate industry.