Diana Abu-Jaber is an award-winning author, with multiple books exploring identity and heritage through the lenses of language and food. She's also written for The Washington Post and The New Yorker, among other publications, and today we have the distinct pleasure of featuring her in The Quibblerview! Diana talked about her inspiration and her new culinary memoir, Life Without A Recipe.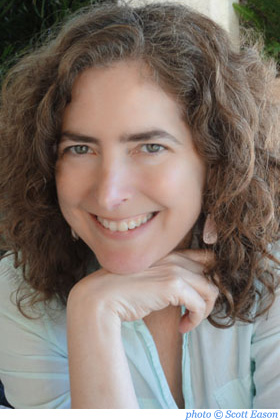 When did you first begin writing, and what was your first published piece?
I started writing before I knew how to write. My family was filled with story-tellers, so the experience of making stories, their shape and arc and form, was  very familiar to me. Summer vacations, starting around fourth grade, were taken up with writing novels in my school notebooks. The first real work I published was actually some poetry when I was an undergraduate in college. The Windsor Review published a couple of my poems and sent me twenty dollars-it was thrilling.
Your new book is a culinary memoir, but this isn't the first time you've written about the impact of food on your life. How would you say cooking and writing intersect for you? What are the ways in which the craft involved in both is the same, and what are the ways in which it is different?
Writing and cooking are both creative, intuitive, improvisational pursuits-they also rely on focus, testing, and revision. And cooking is a wonderful metaphor for all sorts of human experiences and ways of seeing. But there's a real timer on food that makes it a challenging, evanescent medium to work with. You have to time your dishes; you have to make sure ingredients are ripe but not overly so; you have to serve hot or cold or just so. The great mercy with writing is that-at least most of the time- you can take your time. The longer you work on most writing projects, the richer, better, more developed they become. Unless, of course, you've worked something to death, then you've got another problem.
Your books seem to cover a wide range of topics. What inspires you to write? What are some of the things you try to explore in your writing?
I write to remember, to tell my truth, to entertain myself and my friends, and in large part, I write to try to better understand myself-what I feel and think-as well as to try to better understand those around me. I seem to be haunted by issues of culture and identity, family and community, and of course food-that always seems to show up in my work, even when I'm not trying to write about it.
How do you go about constructing your novels? Do you start with the characters, the plot, or a mixture of both?
I don't usually follow the same path-it changes from project to project. But in general, I prefer starting with a storyline of some sort-not really a whole plot, but some sort of hook or angle. My thriller Origin started when I woke up one day with a character's voice in my head telling me her life story.
My first memoir was organized around specific food memories about cookies and baking. But my new memoir, Life Without a Recipe, began as a response to the advice I got from my writing teachers that I could be a parent or a writer but I couldn't be both. I'd felt haunted by those voices and, after years of writing-and parenting-I wanted to answer.
What is the very first thing you do when starting a novel? And what is the last thing you when you've completed it?
It's a pretty organic process for me, so I don't have a kind of identifiable ritual or pattern. Novels start in the imagination, in dreams and conversations and observations; they accumulate. For me, there's a lot of thinking and note-taking. Once I've dreamed up a story-arc, I'll usually try to cobble together an outline, maybe do a bit of research, and soon after that I'll attempt writing a first page.
"Completion" is an even more approximate term– there are drafts upon drafts upon drafts. I beg friends and family to read and give me feedback. Even after my agent has weighed in and my editor has sent me notes, there are more revisions as well as copy edits. Through it all, I'm plagued by uncertainty, the eternal sense of incompletion, that it can't possibly be done. Eventually, I try to console myself with that wonderful quote: art is never finished only abandoned. And, as soon as I can, I try to start something new.
Who are some of the authors whose styles you admire?
Virigina Woolf; Michael Ondaatje; James Joyce, Ray Carver; Chekhov; Marilynne Robinson; Annie Proulx; Anton Shammas; M.F.K. Fisher, Louise Erdrich, and about a million others.